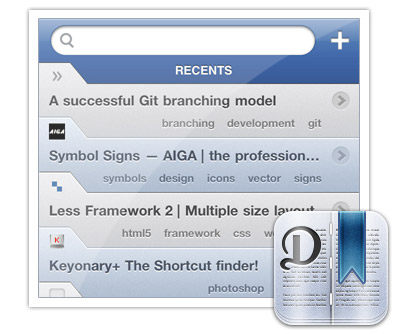 Our Delicious/Pinboard client Delibar has just landed on the App Store!
Delibar is a full featured Delicious and Pinboard iPhone client, and will use those services for synchronizing your bookmarks on the cloud. Delibar syncs one or more Delicious/Pinboard accounts and let you find, add, edit and modify your bookmarks directly from your iPhone, all your bookmarks are just a tap away.
Check the Delibar website or grab it on the App Store!
Here some highlight of Delibar for iPhone:
global search across all your bookmarks.
Ability to add, edit, delete bookmark directly from the application.
Multi account support.
Navigate bookmarks by tags.
Save searches for a later quick access.
Browse your friend bookmarks.
Instapaper and Mobilizer integration.
Safari mobile integration via bookmarklet.